If you're reading this, it means you are like 92% of our clients: Your website is built using WordPress.
In the coming weeks, WordPress' core version will be updated to 5.0
The main part of this update will be that Gutenberg WordPress Editor will replace the classic WordPress editor. Designed to integrate with WordPress core itself, this will be a major change in the way you edit posts and pages.
Gutenberg encourages you to customise your content using 'Blocks'

Some of the most common blocks available are:
Audio
Gallery
Heading
Image
List
Paragraph
Quote
Video
Embedding content will also become easier, with options for (but not limited to)

Facebook
Instagram
Reddit
SoundCloud
Spotify
Twitter
TED
Vimeo
YouTube
Here at Classic Lines, we envisage some of the ways in which people will benefit from this update to be:
Undo / Redo functions – These weren't possible before, meaning people used to rely on 'Revisions' or (attempt to) go 'Back' in their browser.
A more accurate preview whilst editing – The back-end of a Post / Page will look a lot more like the Preview / Live link.
The ability to save and reuse blocks – Potentially saving you a lot of time.
Faster website: Better SEO – Gutenberg produces nice, clean HTML code compared to other site builders.
---
What's more: Some of your favourite (and most-used) blocks can be accessed with time-saving shortcuts – as explained in this demonstration by Yoast: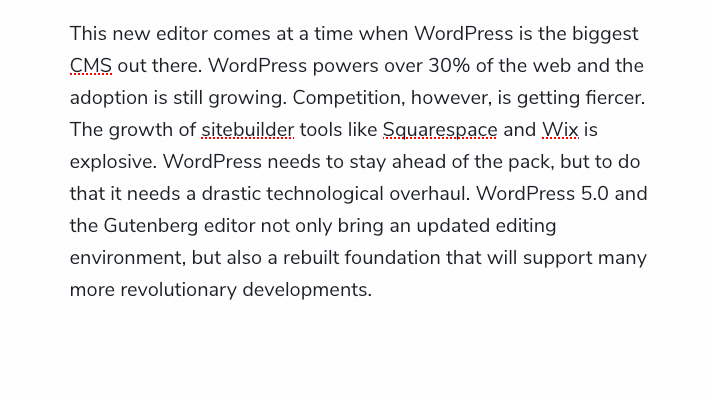 Download this handy guide from the good people at iThemes Security, for more information about WordPress 5.0 and the Gutenberg WordPress Editor.
Contact Arran if you need some assistance with the latest Gutenberg update from WordPress. If you prefer not to use the new Gutenberg Editor at all, we can help you install the WordPress Classic Editor as a separate plugin.
Although it's worth nothing:
The Classic Editor plugin will only receive support until 31st December 2021; so it's worth getting to know Gutenberg as soon as possible.